Legal Casinos In New York
Because it is located right next door to New Jersey—a state that boasts more permissive and progressive gambling laws than any other, save for Nevada—the Empire State is not often regarded as a haven for gamers. The reality, though, is that New York's laws do allow for the playing of various games of chance and of skill—and indeed, legal New York Casinos are numerous. Legal online casinos, for New York residents, are also on offer—and when you factor in racinos, you have plenty of options for New York's gaming constituency.
This page will address some of the specific forms of gambling that New York residents can engage in, legally and safely. The state's several land-based casinos will be mentioned, alongside the racinos and other forms of legal in-state gambling. Additionally, the page will touch on the rather more complex issue of Internet casinos.
Does New York Have Legal Land-Based Casinos?
First and foremost, note that the Empire State does have its share of legal, land-based casinos—though they are not necessarily going to impress those who are used to the resort-style casinos of Atlantic City. None of New York's casinos are commercial; they are Native American casinos, though they do offer wide varieties of gaming.
In addition to these Native American casinos, New York also offers racinos. On top of this, Governor Andrew Cuomo has made it clear that he wishes to bring commercial casinos to New York. As such, the future of gambling in New York is very much an open question—but it looks promising!
In fact, New York passed a bill in late-2013 that is going to allow it to bring as many as seven new New York casinos that will be regulated by the state. Early plans even have a resort style casino establishment planned for somewhere near or in Manhattan!
Are Online Casinos Legal in New York?
The next question to address is that of online casinos. Internet gambling laws are always a bit difficult to interpret, and that's certainly true in New York. The reason this issue is so tough to talk about is because the laws of New York do not really comment on online gaming one way or the other; Internet casinos are not expressly approved, but they are also not openly condemned. The bottom line for New York residents is that they can enjoy casinos safely, and without fear of legal ramifications—especially when they pick a high-quality, offshore Internet casino.
Online Casinos that Accept New York Residents
Indeed, there are plenty of online casinos that accept New York residents. The important thing is to find the ones that are reputable and trustworthy. We have reviewed several of the safest, most upstanding online casinos right here on this site.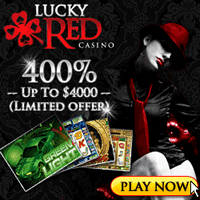 Lucky Red Casino
Safe + Trusted For New York Residents
Registration: Free + Fast - Get Started
Funding Options: Visa, MasterCard, Debit + Prepaid Cards
Payout Options: Check, Cash + Bank Wire, Re-Credit Card
Slots Bonus: 400% Match To $4,000- LUCKYRED400
Games Bonus: 100% Match To $1,000- LUCKYRED100
Learn More: Lucky Red Casino
New York's Casino Gambling Laws + Statutes
New York's laws are not particularly restrictive, when it comes to gambling, but they do attempt tor regulate (and tax) gaming as much as possible. Right now, that means that commercial casinos are illegal in the state, though that's likely to change in the months to come. Additionally, online casinos are becoming increasingly more acceptable in states throughout the country—with New York's own Congressman Peter King leading the charge for a national allowance of Internet casinos!
Other Forms of Gambling For New York Residents
New York offers regulated gambling of almost every variety, outside of commercial, legal New York casinos. Those who live in the state can visit one of the many tribal gaming facilities or race tracks that New York boasts. At these race tracks, betting and even electronic gaming are typically on offer. On top of all of that, New York has its own state lottery. All of these different forms of gaming combine to make the Empire State a player-friendly one—and an environment in which legal online casinos for New York residents are all but inevitable.